Enjoy your favorite movies at home with these powerful mini projectors
Mini projectors can offer the same features as a full-size computer, although have compact designs and feature multiple connections for you to use with computers, tablets or smartphones.
In the following guide we show you five options that can be substitutes for your TV screen because they allow you turn your house into a movie theater while enjoying your favorite multimedia content in total comfort.
1. Mini projector with LED lamp
The CiBest mini video projector is designed with a LED lamp, 1080p resolution and a 30 to 200 inch display screen for a distance of 3 to 15 feet. Includes HDMI line, AV cable, power cord, adjustable foot, and remote control.
Presents a cooling system to reduce noise fan, so you can achieve a quiet environment during projection. Plus, it comes in a portable size that reaches a weight of 2 pounds so you can carry it in your purse or purse wherever you want.
2. Mini projector with LCD screen
It is a mini projector design built with an LCD screen, an LED light source with 55,000 hours lifespan and a contrast of 2000: 1 which is 1080p compatible. Offers a projection screen from 32 to 170 inches with distance from 1 to 16 feet.
It guarantees you brilliant images and high quality sounds so you can spend a pleasant time at home while you enjoy your favorite movies. For this, you can connect to laptops, tablets, smartphones and USB drives.
3. Portable projector Full HD
This mini projector with portable design Supports Full HD 1920 by 1080p resolution and a lamp with a useful life of 30,000 hours. Integrates speaker, microphone and multiple multimedia ports for micro SD card, USB drive and HDMI adapter.
Its projection screen reaches from 20 to 60 inches with a distance of 6 to 26 feet, which is ideal for you to enjoy with your family and friends of the best entertainments from anywhere you choose.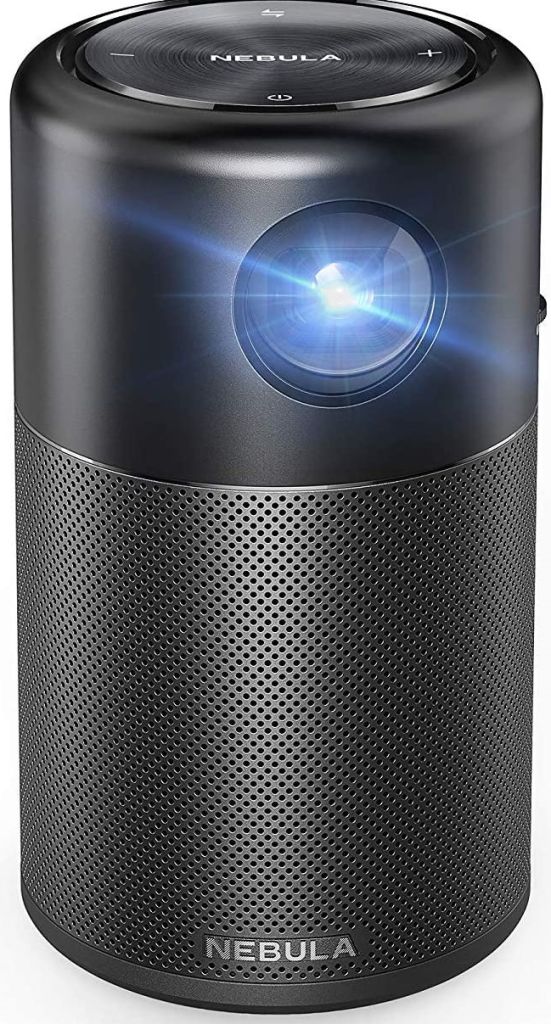 Nebula Capsule has technology of 100 lumens display and one native resolution up to 1080p, which is recommended for higher quality. Includes remote control, Bluetooth and 5200 mAh rechargeable battery.
It is equipped with a omni-directional speaker that emits sound in all directions so enveloping and balanced. It has a diameter of 3 inches and a weight of 15 ounces, which is perfect for you to carry with you in any of your pockets.
This design is equipped with an LED lamp that has a 45,000 hour lifespan and with contrast of 2000: 1 with resolution of 1080p. Has a cooling technology by fan to prevent overheating.
The projection screen achieves a size of 36 to 150 inches at a distance of 3 to 12 feet. As well as an integrated dual speaker system that gives you a better sound quality while you enjoy your favorite movies, series or football matches.
You may also like: What is the best soundbar to bring the cinema experience to your home?
.